My Earnings!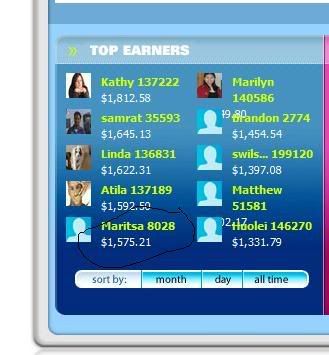 And many more!! This is just to give you an idea
I am making over $1000 and more each month!! And so can you! Its super easy, I am no guru or anything, just a mom:)
Yes you can get paid to blog, how? Get yourself a free blog online, start writing whatever you want to blog about and start getting paid! It also help if you already have a blog that you already post on because then your blog has been online and has a reputation.
My main money maker is
PayPerPost
because I have made thousands of dollars and the pay via paypal. This site is so awesome because once your blog has been approved in their system, you can then choose what reviews you would like to write, so many different types and you do get paid for writing them. They pay on a 30 day basis but if you do a post everyday after the 30 day period, you will be getting paid every single day like I am and many others. And no you do not get paid pennies, you can actually make good money. I have been averaging $50-$100 per DAY. Wanna see proof? Just ask me and I will gladly show you.
You will also need a
PayPal
account, that is how you get paid
Okay let me explain as I did to many others who are possibly interested
blogging is the new way that people express themselves online
since so many bloggers have blogger friends and family, chances are that if I want you to write about my product, people will see it, its like a commercial
advertisers pay the company and the company pays you. You have a blog, its your own blog, you control it so its up to you to maintain it.
With ppp, you log in and there will be opps available to you or not. Depending on what your topic is about and what the advertiser is looking for. Most of my blogs are general, which is a common topic of blogs that are looked for.
What I love about getting paid to blog, I log in when I want, if I feel like being a lazy bug and not do anything that day, guess what? I dont have to answer to anyone, its not their problem you dont need the money, lol
They pay via paypal but when you start you will not be paid until 30 days later. Thats how they do it, but if you write posts everyday until your 30 days and dont stop, you will be getting paid every single day. Do you know how good it feels to have money in your paypal coming in everyday? I always try to help those that WANT to be helped. I remember when I was first looking for some sort of income online, everyone basically said help yourself, so I did, but I am not going to say that to you. I am actually showing you what to do and where to do it. Honestly it may not be much but something is better than NOTHING! So go here first
Blogger
and start a blog
and click the button below to sign up but before you do anything is your blog at least a month old? Not yet? Well sign up just to get things ready and when you blog is ready, you can procede. You can also start with getting your own domain name with this site where I purchase all my .com's
Go Daddy $7.49 .com Sale
or cheaper depending when you buy, usually under $10 for a name but you will make that money back no doubt!
SMORTY
Smorty
pays bloggers weekly, I can honestly say that I have been paid, they do not have that much campaigns but being in their system will still help while seeing if there are any tasks available.
Payu2Blog
I Love, love, love them because you dont really have t write a review, just place the text link in any of your post and get paid every teo weeks, not bad and they really are awesome and a geat place to start.
Sponsored Reviews
Great place where as a blogger you choose the advertiser and bid how much you want to get paid for it, you will be notified via email that you have the task and start writing.